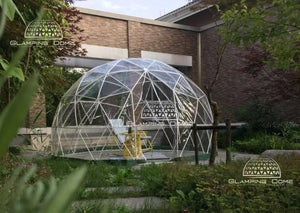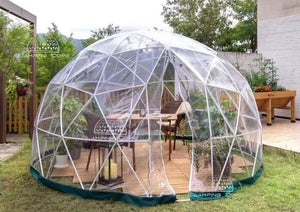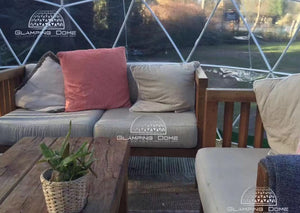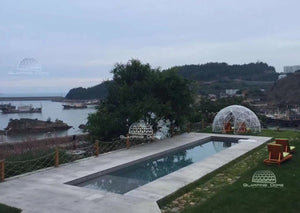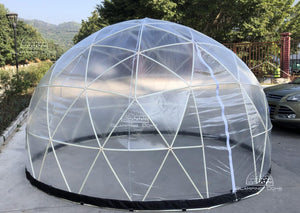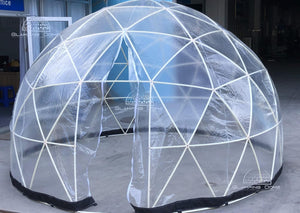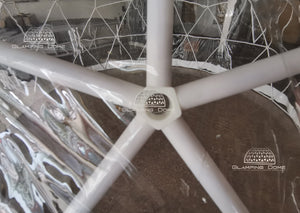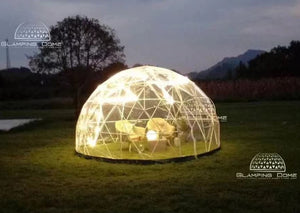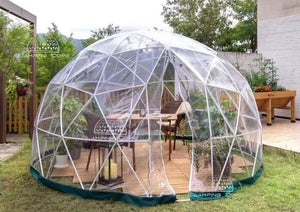 Plastic Frame Geodesic Dome Tent
Even better budget deal for restaurants and hospitality businesses is here!
The Corona pandemic reality with the rules for restaurants, bars, pubs, cafes and other types of food and beverage/hospitality businesses slowly goes in history.
Public dining and catering is opening back up for business.
But some safety measures to keep your staff and guests healthy  -- like extra cleaning, disposable menus, outdoor guest seating -- may be a good idea to keep. But even with them there are still some people who don't feel comfortable dining out.
These guests might be enticed if they can be seated outside, where air flow is thought to cut down on the chance of the virus spreading from person to person (unlike air that gets recirculated indoors.)
However, with temperatures dropping in the cold month, it's going to be less likely that guests will want to sit outside in freezing temperatures or snowy conditions.
We have a great special offer for restaurants: 3 x 13ft (4m) Geodesic Dome Tents at the fire sale price!
 DOME INFORMATION: 
●

 
DOME FLOOR

 
- 11.8 ft (3.6m) diameter
●

 
DOME CENTRE HEIGHT -  7.2ft (2.2m)
●

 
DOME FLOOR FOOTAGE - 105 sq. ft. (10 sq. m)
●

 
DOME STRUCTURE FRAME - PVC and ABS pipe 0.5" (25mm)
●

 
DOME COVER MEMBRANE - transparent clear TPU film, waterproof, mold resistant; HDPE film
DOME OFFER INCLUDES:
●

 
x1 per Dome - zip-up, soft and all-weather door (clear)
● x1 per dome mesh screen vent
●

 x1 Set per Dome - 
Anchorage with screws (to secure the tent to a concrete / wooden surface)


DELIVERY:

Subject to minimum free shipping order requirements. Minimum free shipping order amount is 4,829.00 USD.
Our prices include shipping and handling fees up to your local warehouse in continental Canada or USA. These terms exclude Alaska, Canadian Territories and Labrador. 
Please note the warehouse will charge a docking fee and, if you leave behind the crate or garbage, a disposal fee.
Due to unprecedented congestion at ports and COVID-19 restrictions, please allow 15 weeks for your order to be delivered. Delivery to New England states (Connecticut, Maine, Massachusetts, New Hampshire, Rhode Island and Vermont) may be longer (up to 14 additional days) due to the geographical location and logistics.  
For all other countries, please visit our Worldwide Delivery link.
Always refer to the Terms and Conditions page for our ordering, shipping, exchange and return policies before placing your order.
Made in China.
JOIN THE FIGHT
Glamping Dome Store supports Operation Underground Railroad (O. U. R.). By purchasing our products, you can help us expand the fight against child and human trafficking, a modern-day slavery. Learn more at www.ourrescue.org
AFFILIATE PROGRAM AVAILABLE

Please contact us for details and enrolment process CONTACT US