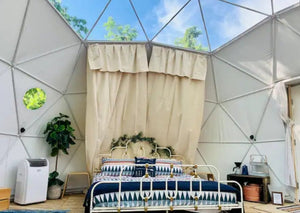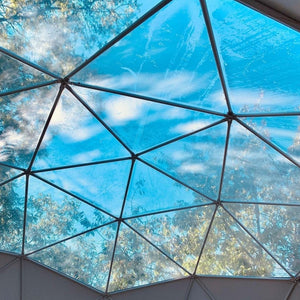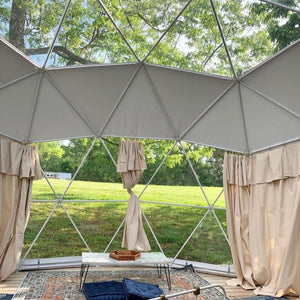 If you like to extend the skylight window on your dome for that fantastic stargazing experience, we have this option for you!
No-open clear PVC pentangle window that varies in size based on dome diameter, only for daylight or moonlight transmission. Bringing natural light into a dome through the skylight decreases the need for electricity while maintaining privacy.
An extended skylight is not recommended for locations with high UV levels. You should consider shading the skylight from direct sunlight and using Dome Care Products on a regular basis in such areas.
Regular and Extended Skylight windows chart
Dome size

Regular Skylight Window

Extended Skylight Window

16.4 ft

(5 m)

W: ≈ 5.2 ft (1.6 m)


H: ≈ 5.1 ft (1.55 m )

W: ≈ 10.8 ft (3.3 m)


H: ≈ 10.5 ft (3.2 m)

19.7 ft

(6 m)

W: ≈ 6.3 ft (1.92 m)

H: ≈ 6.1 ft (1.86 m)

W: ≈ 9.8 ft (3 m) 


H: ≈ 12.8 ft (3.9 m)

23 ft

(7 m)

W: ≈ 7.3 ft (2.23 m)


H: ≈ 7 ft (2.14 m)

W: ≈ 15.1 ft (4.6 m)

H: ≈ 14.8 ft (4.5 m)

26 ft

(8 m)

W: ≈ 8.3 ft (2.54 m)


H: ≈ 8 ft (2.45 m)

W: ≈ 17.1 ft (5.22 m)

H: ≈ 17 ft (5.17 m)

29.5 ft

(9 m)

W: ≈ 9.4 ft (2.85 m) 


H: ≈ 9 ft (2.75 m)

W: ≈ 19.3 ft (5.9 m)


H: ≈ 19 ft (5.8 m)

32 ft

(10 m)

W: ≈ 10.4 ft (3.16 m)


H: ≈ 10 ft (3.05 m)

W: ≈ 21.42 ft (6.5 m)


H: ≈ 21.21 ft (6.5 m)