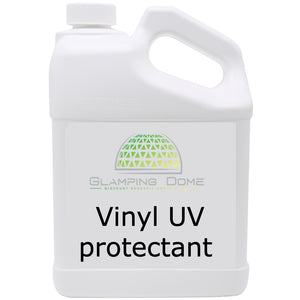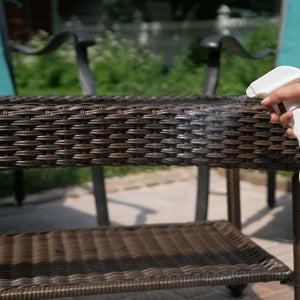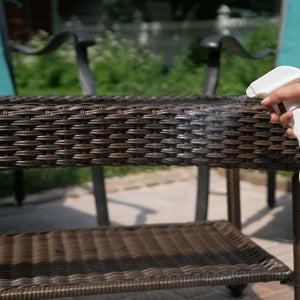 VINYL UV PROTECTANT - 1 GALLON
Vinyl UV Protectant is an ideal solution for protecting your dome tent cover material!
No other product offers this level of protection for the vinyl dome tent cover. Take care of your dome opaque PVC coated cover with the UV Protectant to keep it bright and clean! Vinyl UV Protectant is a high-performance protectant that is created to protect plastics, PVC, and vinyl materials from the harmful effects of everyday exposure to ultraviolet radiation. A lot of outdoor gear and apparel can be treated with this product, too!
Simply spray on and wipe dry to restore colour and shine, repel stains, and prevent fading even in the most extreme UV exposure and sunniest regions. With no silicone oils or petroleum distillates, it is safe to use on all of your outdoor materials—vinyl, rubber, fibreglass and more.
There is no other protectant that beautifies or preserves as effectively as this one. Maintain a shiny dome cover season after season with our Vinyl UV Protectant for opaque PVC cover.
HOW TO USE:
Use only on completely clean surfaces. Use Multi-Surface Cleaner first to achieve the finest results. When the cover vinyl has cooled down and is out of direct sunlight, spray it with Vinyl UV Protectant and wipe it completely dry. To capture any overspray, place a drop cloth under the cleaner. If streaking appears, you've used too much product. IMMEDIATELY WIPE COMPLETELY DRY AFTER REMOVING EXCESS WITH A WET TOWEL.
This product does not dry naturally. Always wipe it completely dry after application. Buffing with a dry cloth improves bonding, repellency, and longevity. For optimal UV protection, apply at least every three to five weeks.
Excellent for use on a wide range of surfaces including vinyl, leather, plastics, synthetic and natural rubber, eisenglass, PVC, gel coat, and fibreglass.
This product should not be used on unfinished leathers (such as suede), textiles (canvas), or flooring.
Only available to existing Glamping Dome Store customers.
Features:
Do not use on clear vinyl. Dries to a clear matte finish.
UV-blocking agents protect against fading, cracking, and premature ageing.
Restores the colour and shine that has faded.
Easy to use: Simply spray on and wipe dry.
Plexiglas®, rubber, carbon fiber, vinyl, finished leather and plastics: safe and effective for use with this product.
The product is proudly made in the United States.

WARNING: This product can expose you to chemicals including Ethylbenzene which is known to the State of California to cause cancer, and Ethylene Glycol which is known to the State of California to cause birth defects or other reproductive harm. For more information go to P65Warnings.ca.gov.