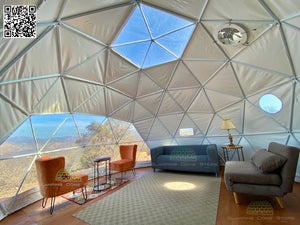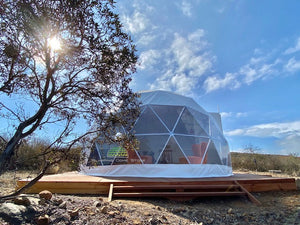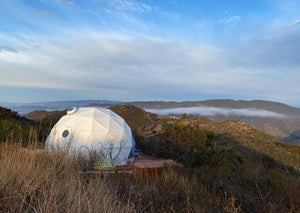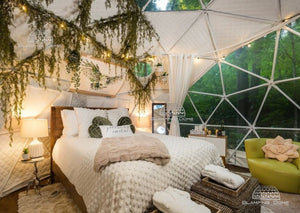 Geodesic Dome Tent - 16.4 ft (5 m)
FREE SHIPPING TO CONTINENTAL USA AND CANADA ON ALL DOME TENTS
(Some conditions apply; please see below.)
Introducing our smallest dome tent kit for sale, perfect for creating unique glamping experiences, Airbnb rentals, or tiny homes, as well as short-term accommodations.
16.4 ft (5m) diameter dome with 211 sq.ft. (19.5 sq.m.) of useful space, this cozy size is ideal for glamping or other short-term uses that don't require having a kitchen or indoor restroom. Whether you're a couple seeking a cozy retreat or a small business looking for an exciting investment opportunity, this geodesic dome tent is a perfect fit.
The dome tent offers plenty of living space for all your needs. It's just big enough to fit most of the necessities one needs to be super comfortable out in the wild. What's more, it's portable and easy to set up, making it a great option as a small venue at day events or festivals or even as an eye-catching garden canopy in the heart of the city.
The foundation of our Geodesic Dome Tent lies in its robust and resilient framework. Using the principles of geodesic engineering, this dome structure is built with interlocking triangular elements, allowing for exceptional strength and stability even in the face of strong winds and challenging weather conditions. With a sturdy 1.25'' (32 mm) framework, this dome tent can withstand winds of up to 167 mph (268 km/h). Additionally, every dome tent purchase includes a standard engineering report with calculated snow and wind load data.
But it's not just about strength; it's about the ultimate glamping experience. Step inside our Geodesic Dome Tent, and you'll find a spacious interior carefully crafted to optimize comfort and functionality. The layout offers plenty of space for relaxation, dining, and sleeping arrangements, providing versatility and convenience for all your glamping needs.
NEW INCENTIVE REBATE PROGRAM - CONTACT US TO LEARN HOW YOU CAN GET CASH BACK FOR YOUR DOME
DOME INFORMATION: 

● DOME FLOOR - 16.4 ft (5 m) diameter
● DOME CENTER HEIGHT - 9.5 ft (2.9 m)
● DOME FLOOR FOOTAGE - 211 sq. ft. (19.5 sq. m)
● DOME STRUCTURE FRAME - 1.0-1.25" (26-32 mm) diameter, 1/16-5/64" (1.5-1.8 mm) thick galvanized pipe. Anti-corrosion/anti-rust treated; powder-coated white
● V FREQUENCY - 3V (165 struts) 
● DOME COVER MEMBRANE - PVC (or PVDF for the heavy - duty frame option) coated polyester 25 oz/sq.yd. (850 g/sq.m), UV - resistant, fire retardant, waterproof, mold resistant
● STEEL FRAME WEIGHT - 369 lb (167 kg)
● COVER WEIGHT - 66 lb (30 kg)
●  DOME TENT WIND AND SNOW CAPACITY: 1" (26mm) D frame; 1.25" (32mm) D frame
DOME OFFER INCLUDES:
● Frame. Galvanized steel. Powder-coated white.
● Cover. Available in multiple colors.
● 15 x heavy - duty anchor plates are included to secure the tent to a concrete or wooden surface. Galvanized steel. Powder-coated white.
● x1 solid door frame ready for a 36x80" pre-hung exterior door. Galvanized steel. Powder-coated white.
● x1 PVC transparent panoramic window (regular size - 2 V levels from the base).
● x1 round transparent PVC, no-open window.
● x2 mesh screen vents.
● Continental US and Canada shipping, all import and handling fees.
● x1 Installation Manual and Guide, Assembly Diagram, List of Parts (e-copies).
● x1 Engineering Report with Calculated Snow and Wind loads (e-copy).ㅤ

ㅤ

DOME PLATFORM:
We recommend building dome platforms in a circular or 15-sided (pentadecagon) shape that is close to the geodesic dome base shape and size. This is necessary to prevent rainwater or meltwater from getting under the cover inside the dome. In this case, the water runs off the cover directly onto the ground.
DELIVERY:
Our prices include shipping and handling fees up to your local warehouse in continental Canada or the USA or to an address that is accessible for commercial transport. These terms exclude Alaska, the Canadian Territories, and Labrador.

Please note that the warehouse will charge a docking fee and, if you leave behind the crate or garbage, a disposal fee.

Due to congestion at ports and post-COVID-19 transportation imbalances, please allow 12-15 weeks for your order to be delivered. Delivery to New England states (Connecticut, Maine, Massachusetts, New Hampshire, Rhode Island, and Vermont) may take longer (up to 14 additional days) due to the geographical location and logistics.

For all other countries, please visit our Worldwide Delivery link.

Always refer to the Terms and Conditions page for our ordering, shipping, exchange, and return policies before placing your order.

Made in China.
JOIN THE FIGHT
Glamping Dome Store supports Operation Underground Railroad (O. U. R.). By purchasing our products, you can help us expand the fight against child and human trafficking, a modern-day slavery. Learn more at www.ourrescue.org.
AFFILIATE PROGRAM
Please contact us for more details and the enrollment process.