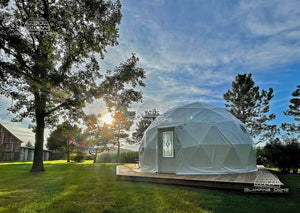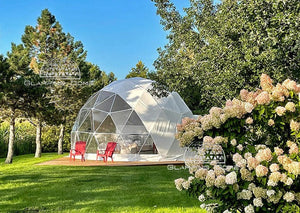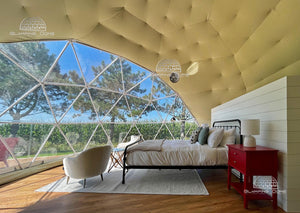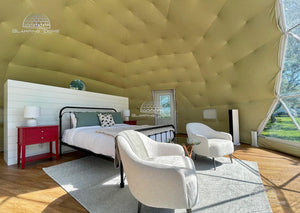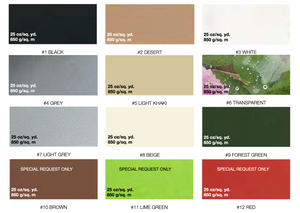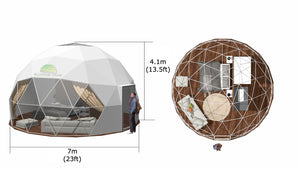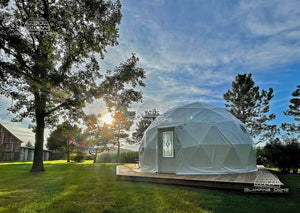 Geodesic Dome Tent - 23 ft (7 m)
FREE SHIPPING TO CONTINENTAL USA AND CANADA ON ALL DOME TENTS
(Some conditions apply; please see below.)
Having more space opens up endless possibilities and provides plenty of room to accommodate a larger number of people. So if you are looking for a dome home for your family, we recommend considering our 23-foot (7-meter) geodesic dome tent. The layout of this space is both open and spacious and provides plenty of room for an en-suite bedroom and a lavishly furnished area, creating the perfect setting for a luxurious glamping retreat.

Intrested in maximizing vertical space? With this dome tent size, you can have a small loft for sleeping right above an indoor bathroom. Additionally, it comfortably accommodates a family of four for both sleeping and living purposes.
This geodesic dome tent is more than just an attractive option for luxurious camping. It seamlessly transitions into a stunning venue for events, receptions, yoga retreats, exhibition tents, or even a captivating concert chill-out spot. With its ability to accommodate a steady flow of visitors, this dome tent becomes an ideal choice for hosting a range of memorable occasions.
But its versatility doesn't stop there. This dome tent kit holds incredible potential for the development of a glamping eco-tourism destination. Its allure and functionality make it an appealing investment for those looking to create a sustainable and immersive glamping experience.
The curved shape of this geodesic dome structure plays a vital role in its wind resistance. The spherical or dome shape allows wind to flow smoothly around the structure, reducing wind resistance and minimizing the impact of wind pressure on the tent. With a 1.25-inch (32 mm) framework, this 23-foot geodesic structure can withstand winds up to 167 mph (268 km/h). Its aerodynamic design helps prevent the buildup of wind forces and reduces the likelihood of the tent collapsing under strong gusts.

Discover the possibilities that await with this 23-foot geodesic dome tent. From a luxurious retreat to a captivating event venue, this structure is sure to leave a lasting impression.
NEW INCENTIVE REBATE PROGRAM - CONTACT US TO LEARN HOW YOU CAN GET CASH BACK FOR YOUR DOME
DOME INFORMATION:
DOME FLOOR - 23 ft (7 m) diameter

DOME CENTER HEIGHT  - 13.5 ft (4.1 m)

DOME FLOOR FOOTAGE - 415 sq. ft. (38.5 sq. m)

DOME STRUCTURE FRAME - 1.0-1.25" (26-32 mm) diameter, 1/16-5/64" (1.5-1.8 mm) thick galvanized pipe. Anti-corrosion / anti-rust treated; powder-coated white.

V FREQUENCY - 3V (165 struts)

DOME COVER MEMBRANE - PVC (or PVDF for the heavy - duty option) coated polyester 25 oz/sq.yd. (850g/sq. m), UV - resistant, fire retardant, waterproof, mold resistant

STEEL FRAME WEIGHT - 590 lb (268 kg)

COVER WEIGHT - 185 lb (84 kg)

DOME TENT SNOW AND WIND CAPACITY: 1" (26 mm) D frame; 1.25" (32 mm) D frame
Please use our BUYER'S COMPARISON CHECKLIST to help you weigh multiple dome suppliers and services in order to make the right decision.
DOME OFFER INCLUDES:
● Frame. Galvanized steel. Powder-coated white.
● Cover. Available in multiple colors.
● 15 x heavy - duty anchor plates are included to secure the tent to a concrete or wooden surface. Galvanized steel. Powder-coated white.
● x1 solid door frame ready for a 36x80" pre-hung exterior door. Galvanized steel. Powder-coated white.
● x1 PVC transparent panoramic window (regular size - 2 V levels from the base).
● x1 round transparent PVC, no-open window.
● x2 mesh screen vents.
● Continental US and Canada shipping, all import and handling fees.
● x1 Installation Manual and Guide, Assembly Diagram, List of Parts (e-copies).

● x1 Engineering Report with Calculated Wind and Snow Loads (e-copy).
ㅤ
Please note: For assembling bigger dome structures such as 23 FT (7 M), 26 FT (8 M), 29.5 FT (9 M), and 32 FT (10 M), we suggest a crew of at least 6 people and the use of mechanical lifting equipment and scaffolding for assistance. Please refer to each dome tent listing to check the weight of the dome cover and dome center height. Based on that information, you can determine if you may need to use mechanical equipment or scaffolding, even for smaller structures.
DOME PLATFORM:
We recommend building dome platforms in a circular or 15-sided (pentadecagon) shape that is close to the geodesic dome base shape and size. This is necessary to prevent rainwater or meltwater from getting under the cover inside the dome. In this case, the water runs off the cover directly onto the ground.
DELIVERY:
Our prices include shipping and handling fees up to your local warehouse in continental Canada or the USA or to an address that is accessible for commercial transport. These terms exclude Alaska, the Canadian Territories, and Labrador.

Please note that the warehouse will charge a docking fee and, if you leave behind the crate or garbage, a disposal fee.

Due to congestion at ports and post-COVID-19 transportation imbalances, please allow 12-15 weeks for your order to be delivered. Delivery to New England states (Connecticut, Maine, Massachusetts, New Hampshire, Rhode Island, and Vermont) may take longer (up to 14 additional days) due to the geographical location and logistics.

For all other countries, please visit our Worldwide Delivery link.

Always refer to the Terms and Conditions page for our ordering, shipping, exchange, and return policies before placing your order.
Made in China.
JOIN THE FIGHT
Glamping Dome Store supports Operation Underground Railroad (O. U. R.). By purchasing our products, you can help us expand the fight against child and human trafficking, a modern-day slavery. Learn more at www.ourrescue.org.
AFFILIATE PROGRAM

Please contact us for more details and the enrollment process.