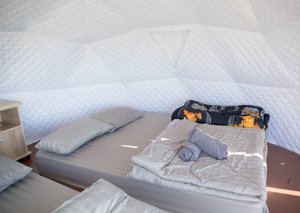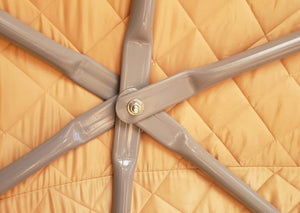 Quilted Synthetic Insulation Fabric Layer
Want your geodesic dome to stay cooler in the summer and warmer in the winter? Regulate the temperature with our Heat/Cold Insulation Fabric Layer.
This insulation layer helps reduce air conditioning costs on hot days and heating costs on cold days - and it gives you an all-around stable room temperature in between the two extremes. Use this layer to help regulate your dome's temperature. With a heat or AC source, our Heat/Cold Insulation Fabric Layer can make a crucial difference in comfort inside your dome.
We recommend that you install the insulation on the inside of the dome frame. If you would like to have your insulation between the outside cover and the frame, please let us know on your dome plan form when you order.
This insulation layer is available in 0.75" (20mm) or 1.5" (40mm) thickness, in your choice of multiple colors. PLEASE NOTE: the fabric we use has a sheen to it.

We have made every effort to display as accurately as possible the colours and images of our products that appear at the store. We cannot guarantee that your computer monitor's display of any colour will be accurate.