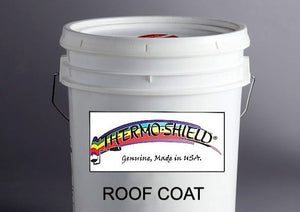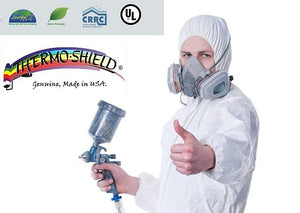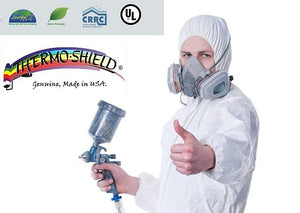 Insulating/Reflecting Roof Coat Paint - 5 gal.
Thermo-Shield® Roof Coats are highly efficient and made from a water-based pure acrylic resin system, filled with vacuumed sodium borosilicate ceramic microspheres of less than 100 microns in size.
So, in layman's terms, this roof coating acts as an energy-saving and thermal blanket covering your entire dome structure.
What's more, it's non-toxic, washable, environmentally friendly, resistant to a variety of harsh chemicals and forms a monolithic (seamless) membrane that actually bridges hairline cracks on your dome cover too.

ADDITIONAL THERMO-SHIELD® ROOF COAT BENEFITS INCLUDE:

has a

 

low conductivity value;

boasts high reflectance and emittance;

offers UV protection and low VOC (volatile organic compounds);

displays excellent dirt pickup resistance and retains its flexibility after aging;

greatly reduces thermal shock and heat penetration by keeping roof surfaces cooler in hot weather;

helps reduce noise transmission and has an effective use range of -40°F (-40° C) to 400°F (204°C).
We recommend using the Thermo-Shield® Roof Coats for additional insulation of domes in hot climate zones to help protect your dome's cover from UV radiation damage. As well as in cold climate zones, as it can be used on the inside of the dome cover to help reflect infrared heat waves and thus actually slow down the overall heat loss.
Thermo-Shield® Roof Coats Certification can be found here.
PRODUCT INFORMATION:
Our Thermo-Shield® Roof Coats come in 5 gallon pails and are ready for brush, roller, or paint spray gun use.

White color only. Optional pigmentation is available for any Sherwin-Williams or Ben Moore colors (please find them on Google and send us the code) at an additional cost.

Tropical mold resistant additives are available at an additional cost. Please inquire. 

One 5 - gallon pail will cover approximately 250 sq. ft. (23 sq. m). Please refer to

 

our chart to help determine the quantity you may need.

Our price includes shipping and handling within continental North America (except Alaska).

 
| | | | |
| --- | --- | --- | --- |
| Dome Size | Area sq. m | Area sq. ft | Number of pails |
| 16.4ft (5 m) | 44 | 474 | 2 |
| 19.7ft (6m) | 63 | 678 | 3 |
| 23ft (7 m) | 85 | 915 | 4 |
| 26ft (8 m) | 111 | 1195 | 5 |
| 29.5ft (9 m) | 140 | 1507 | 6 |
| 32ft (10 m) | 172 | 1852 | 8 |