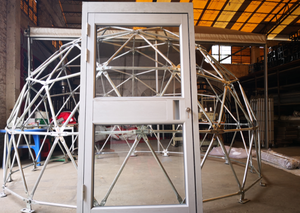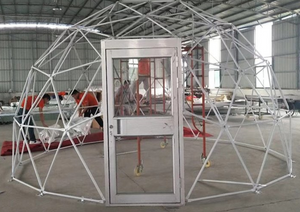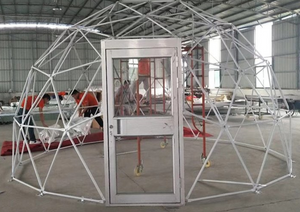 Aluminum Glass door with frame
Upgrade your dome and add a single aluminum glass door to it today.
Because, truth be told, modern geodesic dome designs use doors now more than ever.
Our doors provide an elegant addition to any dome, while also supplying superior structural, operational, and thermal performance levels too.
NEW! Now you can choose the privacy frosted glass on your door!
Also, please choose the OUTSIDE or INSIDE swing. Please let us know if you require a right-handed or left-handed swing. We will customize the left or right swing for you at no charge as well. 
The door comes with a quality lock and a set of keys.
Our doors may vary in style here and there, so please inquire to view our current model. 
SIZE: 3.3' (1.02 m) by 6.5' (2 m).
MATERIAL: quality aluminum, 1/4" (6 mm) clear (frosted) tempered glass.
WEIGHT: 45 lb (20kg).