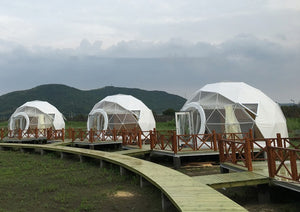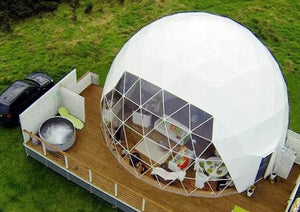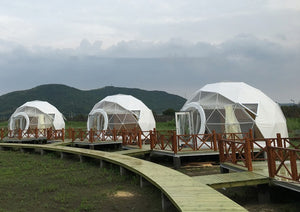 Extended Panoramic Window
Extend your panoramic window to enjoy a breathtaking view!
You have this option to provide your guests with a truly unforgettable nature viewing experience. This large, clear PVC window covers roughly a quarter of the dome's surface. Rather than a standard 2 V frame-level window, you may choose this 3 V frame-level extended viewing window as an alternative.
Regular and Extended Panoramic windows chart
 Dome size

Regular Pano Window

Extended Pano Window

 

16.4 ft

(5 m)





W: ≈ 17 ft (5.2 m)


H: ≈ 5.9 ft (1.8 m )

 

W: ≈ 23.6 ft (7.2 m)


H: ≈ 8.2 ft (2.5 m)

 

19.7 ft

(6 m)

 

W: ≈ 20.3 ft (6.2 m)

H: ≈ 6.9 ft (2.1 m)

 

W: ≈ 28.2 ft (8.6 m) 


H: ≈ 9.7 ft (2.95 m) 

 

23 ft

(7 m)


 

W: ≈ 23.6 ft (7.2 m)


H: ≈ 8.2 ft (2.5 m)

 

W: ≈ 33.1 ft (10.1 m)

H: ≈ 11.3 ft (3.5 m)

 

26 ft

(8 m)


 

W: ≈ 27.2 ft (8.3 m)


H: ≈ 9.4 ft (2.9 m)

 

W: ≈ 37.7 ft (11.5 m)

H: ≈ 12.8 ft (3.9 m)

 

29.5 ft

(9 m)


 

W: ≈ 30.5 ft (9.3 m) 


H: ≈ 10.3 ft (3.2 m)

 

W: ≈ 42.5 ft (12.95 m)


H: ≈ 14.4 ft (4.4 m) 




32 ft

(10 m) 

 

W: ≈ 33.8 ft (10.3 m)


H: ≈ 11.5 ft (3.5 m)

 

W: ≈ 47.2 ft (14.4 m)


H: ≈ 16.1 ft (4.9 m)