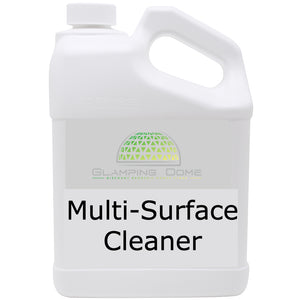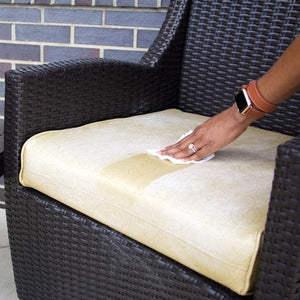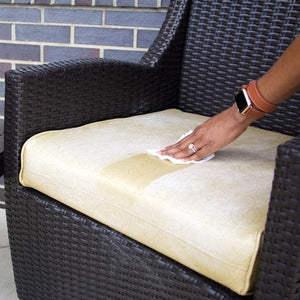 Multi-Surface Cleaner for Dome Cover
MULTI-SURFACE CLEANER - 1 Gallon
Our Multi-Surface Cleaner rapidly eliminates even the most persistent stains from almost any material or surface. Everything from transparent vinyl to insulation layers can be cleaned with this all-in-one cleaning solution. It is safe to use everywhere in your dome tent where vinyl, textiles, and surfaces need to be thoroughly cleaned. Combine it with our Vinyl Protectant for a long-lasting gloss.
HOW TO USE:
Apply directly on the spot until wet. Using a wet cloth, gently treat the surface. Then, using a damp cloth, wipe away the stain as well as any extra cleanser, rinsing the cloth well in clean water as needed. Allow the surface to dry. Increase agitation and soak time for heavier soils. If necessary, repeat the process.
Leaves no residue on surfaces.
Only available to existing Glamping Dome Store customers.
MULTI-SURFACE CLEANER IS SAFE TO USE ON A VARIETY OF SURFACES, SUCH AS:
Vinyl, Rubber, and Plastics: apply to your dome cover to remove dust, dirt, and rain water marks before sealing with Vinyl Protectant.
Fabrics: Multi-Surface Cleaner is intended to clean even the most delicate materials and works on all water-safe fabrics.
Stainless Steel and Chrome.
Extra care for metal, aluminum, and wicker patio furniture.
Features:
Ultimate cleaning power with no greasy residue.
Effective surface cleaner and stain remover.
Keeps surfaces clean and free of streaks.
Created for use with all water-safe materials.
Made in the U.S.A.

WARNING: This product can expose you to chemicals including di(2-ethylhexyl)phthalate (dehp) which is known to the State of California to cause cancer, birth defects or other reproductive harm, and 1, 4-Dioxane,Ethylbenzene which are known to the State of California to cause cancer. For more information go to P65Warnings.ca.gov.